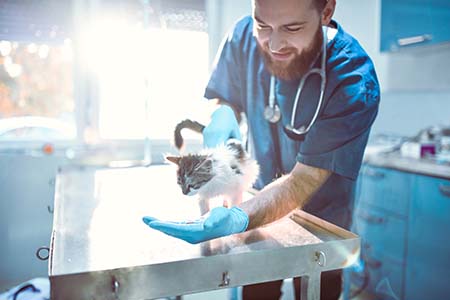 Within the veterinary industry, unpaid vet bills are unfortunately a common occurrence, which can severely impact cashflow in a practice.
It's no surprise to learn that this has resulted in an increase in practices needing a dedicated solution for debt collection.
We have over twenty years' experience recovering overdue and unpaid invoices relating to equine and animal healthcare on behalf of leading practitioners. We fully understand the need for sensitivity and discretion at all times; you have worked hard to establish your reputable veterinary practice and build a solid customer base and we strive to protect that at all times during the collection process.
We work in close partnership with many leading UK veterinary and animal healthcare practices providing not only debt recovery, but additional support services such as trace and investigation reports to reconnect you to gone away customers, deferred payment arrangements and processing, call centre support, credit control, administration and database support.
So why might you need veterinary debt collection?
The majority of veterinary practices in the country are small, privately run organisations. As such, this will require them to have a steady cash flow in order to operate.
Most veterinary treatments will receive a payment within a set period of time following the treatment, but when this is not the case, it can prevent further investment into the business, settling their supplier invoices or even fulfilling staff salary commitments and this often results in the need for more robust credit control efforts.
Whilst the non-payment of vet fees may not be as damaging in the short term, this can impact the business long term if a solution is not put in place.
Failing to recover these fees quickly can have detrimental effects on the company's finances, which is the main reason why you need veterinary collection.
Advice from successful vets practices is to stay on top of unpaid invoices before they become unmanageable, and instruct veterinary debt collection experts as soon as your own internal processes have failed to collect the outstanding amounts.
Here are some tips to help you recover unpaid vet bills and reduce damage to your cash flow.
1. Put in place effective credit control measures
Having a process in place that deals with any accounts issues will help to negate the impacts of bills that go unpaid.
In the interest of money being owed, this could include the likes of regularly sending out payment reminders.
Even better, having a credit control or accounts team will reduce the amount of time that you will spend chasing the veterinary bills.
2. Request that payments are paid upfront
It goes without saying that if you request that the customers pay for treatment upfront, this will completely reduce any need for debt collection for vets. This may be difficult, however, as many vet treatments may change cost depending on how long the animal stays at the practice.
3. Discuss payment plans as alternative methods
In the current cost of living crisis, many pet owners are faced with the unfortunate issue of simply not being able to afford treatment that their pet needs, with many hard-up customers being forced to either not pay for medical assistance or not opt for it. Discussing payment plans is a good solution for customers who cannot immediately pay their invoice, and this is something that Controlaccount can help you set up and manage for you. It may make them feel better about paying for the treatment if they know they can do this in instalments.
4. Have payment terms in writing
Getting the pet owner to sign payment terms will provide you with a backup should they refuse to pay. If they have acknowledged how much they have to pay, then there should be no excuses.
5. Contact the customer when bills become overdue
Verbal conversation through phone calls can help to understand the reasons why people haven't paid their outstanding bills. Should they fail to provide a proper reason for not paying, it is time to contact a professional.
We understand that it is not a vet's job to collect an owed debt, their duty is to provide care for sick animals.
Enforcing a professional debt collection service will ensure your company's finances are not hindered by unpaid vet bills. If you are struggling with bad debtors, Controlaccount offers a solution for your business's needs.
Our professional communication with our client's customers who have outstanding invoices, means client and customer relationships are not jeopardised during the debt collection processes, helping to create and promote an early recovery and positive payment culture. We provide our recovery services on a no collect, no fee basis.
If your veterinary practice has not been paid, get in touch with Controlaccount today.