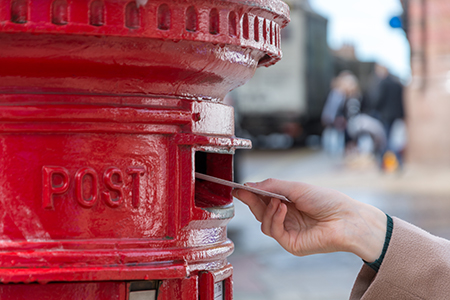 Despite the wide range of digital advertising platforms available today, there are still considerable benefits to direct mail marketing which make it an appealing and extremely viable option.
Direct mail is shown to provide better response rates, greater visibility, and innovative creative opportunities, compared to online activity – and it should form a part of any marketing strategy. Here we look at some of the key benefits of direct mail marketing along with some statistics which show that it is far from dying out.
Response rates are great
92% of direct mail is opened – as people are receiving less direct mail these days, they are more likely to open the mailings they do receive. Make sure you keep it personal by addressing your direct mail to individual customers, as this will help to boost your opening rates.
48% of direct mail is responded to with nearly 50% of consumers acting on a letter they have received, and 18% of direct mail is also kept which means it has a much longer lifespan than other marketing medium. Physical mail is tangible; it can be picked up, put on a wall or in a drawer to be referred to if needed.
Direct mail gets opened and read
Engagement with direct mail is strong, with 53% of consumers saying they read each piece of mail they get, with 21% scanning each piece. So, a high proportion of recipients will see your direct marketing message. 62% of people appreciate receiving mail with an offer; where they feel like they are getting a good deal. Direct mail is familiar and can help build trust, and the ability to truly personalise a letter can give more confidence to the recipient and in turn increase conversions. Loyalty offers are also well received as customers like to know they are appreciated.
Direct mail is targeted, creative and versatile
44% of people who visit a company's website said direct mail marketing materials had been received prior to the visit. 76% of smaller businesses owners prefer a marketing strategy that combines both digital and print communication in an integrated approach – pairing digital campaigns such as email and social media marketing to direct mail can also increase your response rates by around 25%. It is a form of marketing that can be personalised, and creative to really capture the attention of the recipient, adding to strong brand perception.
It is simple and cost effective to do
Whilst the process of targeting, personalisation and creativity may make direct mail seem complicated, its actually very simple to do. A basic campaign with a few variables can still provide good ROI and can be straightforward to carry out with the right design and robust marketing list. It is also cost effective and can be suitable for any budget. Direct mail has a ROI of 29%, competitive with online media.
It complements digital marketing
Whatever your goal, direct mail works with your other marketing methods to improve overall performance and increase customer engagement. Direct and digital mail are natural partners and work well together. Direct mail can be used strategically at any stage of the marketing funnel to work towards and support online activity.
Further statistics of interest:
56% of consumers find print marketing to be the most trustworthy type of marketing – People trust direct mail more than other marketing materials like email and social media.
57% of people say they are more likely to remember a message by mail – Unlike email, TV and radio advertising direct mail is tangible.
57% of respondents said that postcard marketing makes them feel valued and gives a sense of an authentic relationship – this goes back to receiving nice postcards from family when they are away on holiday, a postcard tends to be received with warmth
36% of millennials (under 30's) eagerly anticipate checking for mail each day – this shows that for this age group mail is "novel" and the group looks forward to opening it
95% of 18-to-29-year-olds said they respond positively when receiving cards and letters – although this doesn't necessarily mean direct mail it suggests this group is open to receiving mailings
To find out more about how we can help assist you with engaging branded direct mail for your business, speak to us today.