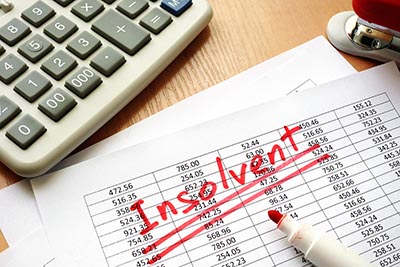 Cashflow is king for any commercial organisation and a major spoiler of effective cashflow, is when a client has had to close their business.
It's even worse when this happens with little, or no, notice.
If one of your clients enters insolvency (also known as going into administration), you may have a number of outstanding payments that you're waiting to receive.
The good news is, you do have some entitlement.
Here we unpack what you should do and what you can expect to receive.
Talk to the liquidator
Your starting point is to get in contact with the liquidator appointed to oversee the closing down of the company concerned.
They will manage and dispose of any assets and their main aim will be to accrue the best possible financial pot, from whatever is left over, once the doors to the business have shut.
As a debtor, is it likely that you will be informed of this activity, but if you are not, then you can confirm the insolvency by checking identeco Business Support Toolkit or the Individual Insolvency Register (for bankruptcy of an individual or an individual member of a partnership). Here's a tip – to get ahead of the game and be notified of companies that will potentially be going into administration, monitor clients via identeco and receive an alert should their financial stability decrease)
The liquidator's company name should also be listed on the closed company's website.
If you are unsure about the stage at which a particular company may be at, in terms of liquidation or potential liquidation, you can also check the status of on this Government website page.
From the finances raised, the liquidator will then pass cash back to creditors.
Find out what type of creditor you are
To help you understand if you are likely to receive any compensation (and if you may not; if financially this debt would be better written-off), you will need to establish what type of creditor you will be.
The liquidator will distribute any proceeds from sold assets to the creditors in order of priority.
Here's how the payment hierarchy typically works:
1. The liquidator
2. Preferential creditors (such as wages owed to staff and contributions to pension schemes)
3. Creditors such as financial organisations and lenders (banks and other organisations that have leased assets such as buildings, machinery and vehicles)
4. Other creditors (such as suppliers and contractors for smaller items and ad-hoc services).
Financial entitlement
When it comes to your outstanding debt, you are (if the funds are available) entitled to payment for each outstanding invoice, right up to the day the business officially ceased trading.
You will however be required to show the liquidator the bills you believe you are owed (they'll need to see all the paperwork).
Government help is available
There's also help from the Government to help you get back the money you believe you are owed which you can find out more about here.
As is explained, options include using a mediation service, instigating court proceedings, sending a statutory demand, and more.
This page from Citizens' Advice may also be useful.
Don't wait too long – Controlaccount can help
If you have been ahead of the curve and can see that a client's business is failing – don't stall (and don't be fobbed off) – speak to a professional debt collection agency as soon as you can. Statistics show that they are much more successful at recovering debt. Trust your gut instinct – if a client is not returning calls and you are being given a series of excuses for late payment (See our blog about this here), then speak to a DCA today. We help hundreds on businesses of all shapes and sizes recover overdue amounts – ethically and efficiently. To find out more please call 01527 388 388 or email sales@controlaccount.com.