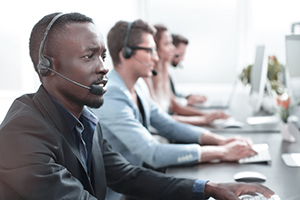 Long before the global pandemic, small businesses have always struggled to get paid. But with the UK business landscape in such a fractured state.
It is now even harder with many companies hanging onto cash for as long as they can as many fight for survival. The impact of Covid-19 has taught us so much – the need for companies to remain agile and responsive, having a full understanding of who you are doing business with (read how identeco's Business Support Toolkit can help you here) and - probably the most crucial – the importance of keeping your cash flow healthy.
Whilst forbearance and understanding should play a part in your credit controller's toolbox, successfully collecting invoices should remain a priority for your business – it could be the difference between survival and closure. And if you are struggling to recover overdue amounts, you should look to defer to an external agency at the earliest opportunity.
Here are our top 6 reasons why you should partner with a professional debt recovery business:
Efficiency
A recent survey highlighted that businesses are wasting several hours each month chasing the overdue invoices with little success. That time can be spent much more productively elsewhere – generating additional sales and customer service, for example. Debt recovery agencies are 100% focussed on recovering overdue invoices with systems in place to make calls and receive payments efficiently.
Results
It is no surprise that debt collection agencies yield high success rates in recovering overdue invoices; it is often their main objective. Professional and reputable agencies invest heavily in training their collection staff to a high level. All our Collectors hold CAI certification which demonstrates their professionalism and understanding of regulations. Controlaccount has extremely high success rates in collecting overdue and unpaid invoices across all sectors and sizes of business.
Security & Compliance
A reputable debt recovery agency should offer telephone recording, efficient lettering processes, SMS reminders right through to a fully integrated debt recovery platform so that you can see any activity on your accounts. In addition to this, compliancy and IT security is crucial when dealing with credit management. Controlaccount holds ISO 27701 which is an assurance to our data security processes. We are registered as a data controller with Information Commissioner's Office and we are founding members of the Credit Services Association.
Legal recovery, if needed
Whilst Controlaccount Plc primarily focusses on pre-legal debt collection, we recognise that there are times when legal recovery can also be an effective tool in recovering debt, if other methods have been unsuccessful or where speed of action is vital. However, legal proceedings should be considered carefully. Controlaccount offers a Debt Assessment Process to determine the possible outcome of any case, which can avoid costly procedures with little result.
Flexible approach
A mistake often made by businesses when trying to recover debt is to escalate the debt too quickly to a legal firm, immediately incurring fees when it would be more beneficial to move towards a debt collection firm, who are likely to agree terms on no collection, no fee which presents minimum risk to your business. There are other options available such as utilising the Late Payment Commercial Debt Act, where interest is placed on the outstanding amount, meaning that the creditor does not need to pay fees for the agency's services and will therefore receive the full amount of monies owed. It is also worth partnering with a DCA who will not commit you to a contract but where you can work together on a flexible, ad hoc basis.
Ethical and Professional
Creditors can often worry that by instructing a debt collection agency, they risk damaging client relationships. In our forty years of collecting overdue amounts, we often find this has the opposite effect; third parties are much more likely to keep any personal feelings out of recovery and will remain calm, patient and professional.
For more information on our debt recovery services, please click here.