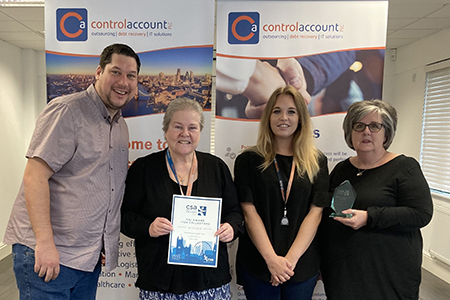 Controlaccount has been awarded the CAI Award at the Credit Services Association's annual UK Credit & Collections Conference (UKCCC).
We are absolutely delighted to have won the CAI Award at the Credit Services Association's annual UK Credit & Collections Conference (UKCCC). The Credit Services Association (CSA) is the UK trade body for the collections and debt purchase sector. We came first place in recognition of having achieved the highest rates of distinctions scores (over 90%) in our Collections Accreditation Initiative (CAI).
CAI is a training initiative and industry benchmark to ensure that collectors working in this complex and regulatory field can demonstrate a thorough understanding of compliance, debt knowledge, risk mitigation, and uphold the highest standards of the CSA's code of practice.
David Harvey, Controlaccount's Managing Director commented, "It is wonderful to have our collectors recognised for their knowledge and professionalism. CAI is a vital part of Controlaccount's robust training programme, which is integral for delivering the high levels of service to our clients and their customers. It is also an investment into our team's continuous development. As an employee-owned business, we look to nurture talent and grow from within, keeping the best people in the business working for us. Well done to all involved."
CSA CEO Chris Leslie says: "Winning an award is a way for teams and individuals to feel valued, especially since they are being judged as 'best-in-class' by their own Trade Association and apprenticeship provider.
"We hope that a CSA award can reflect staff and company success, help to highlight the value of efforts made, and be used to reward the professionalism of your team and organisation, and also an opportunity to recognise and celebrate some truly outstanding achievements."
Controlaccount is part of the Broadriver Group, providing debt recovery solutions to leading global brands, SMEs and not for profits. Speak to one of our team for more information on how we could assist you.