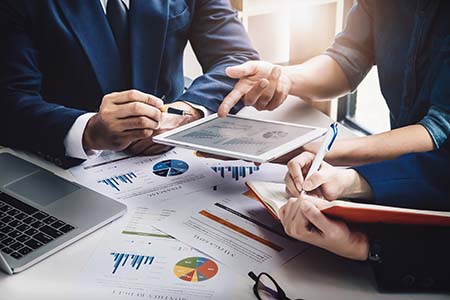 When business owners look at ways to increase profits, their energy is usually focused on how they can attract more customers to generate additional sales.
However, working smarter, not always harder is key to boosting the bottom line. Improving net earnings is directly linked to controlling costs, increasing productivity, marketing resourcefully and tightening credit terms.
We have highlighted a few tips to consider below that you might find of interest. We have a wide range of services and solutions that can help you improve your bottom line.
1. Adjust your pricing
If your sales aren't at the level you would expect, take time to review your pricing and determine if it's reasonable, for both your customers and you. Evaluate what your competitors are charging and consider an increase if your sales are healthy, but your earnings are not.
2. Cut down on expenses
Unnecessary expenses can impact your profit negatively. It's a good idea to allocate some time to examine where you're spending your money, and then look for places to cut back.
3. Look for new opportunities
You should always be on the lookout for new opportunities that can help you grow and increase your earnings. It might be something directly related to your current model, or it might be something different. If you are looking to grow your customer base and engage with new prospects, or perhaps you are struggling to connect with new markets and generate new appointments. Or maybe you may be working from an old business mailing list that is no longer generating much ROI – we can help with that. Perhaps take a look at identeco, which is a Business Support Toolkit offering bespoke b2b telemarketing and email lists which maximise your chances of reaching a target audience – quickly and cost effectively.
4. Learn to fail quickly
Business can be risky, and sometimes situations don't pan out as we hope. That's why it's important to learn how to fail quickly – to recognise early when something isn't going to work – so that your earnings don't suffer as a result, or if they do, it doesn't last so long that it's difficult to recover.
5. Work smart
As the business owner, are you trying to do everything yourself, or have you learned to delegate routine tasks to others on your team? Sharing duties can free your time up for business planning. Perhaps you have considered outsourcing some of your business needs to specialist providers? At Controlaccount we have over 60 services to help businesses prosper, helping our clients to reduce operating costs, increase productivity and improve their bottom line.

6. Focus your marketing efforts
Marketing clearly plays a huge role in how successful and profitable you are. It's key to make sure you are targeting the right demographic(s) with your marketing messages and that they are communicated in the most appropriate way for your particular customer base. Make sure you do your research and think about who is most likely to benefit from your product or service, and then consider how to reach out to that group of people.
Would you be interested in a little help? – here at Controlaccount we offer a FREE 10-minute marketing audit to help focus your marketing efforts and understand how you could better promote your brand, product, or service.
7. Actively reach out to potential customers
Marketing and advertising activities need action. Customers won't necessarily contact you off the back of your efforts, so a clear follow up process is a good idea. Whether this is through cold calls, follow up emails or face to face meetings. Don't be afraid to ask your current customers for referrals. People are more likely to visit a business that someone directly suggested, so referrals can be a great way to build your customer base and increase your profits.

8. Don't stop learning
As businesses and people, its healthy to strive to keep learning. You can take our FREE business audit to understand how you can improve processes, add automation, integrate better performing data, reduce outgoings and improve your bottom line. We work with SMEs to provide over 60 services to help them remain agile and efficient which enables them to meet their business goals.
If you would like to speak with one of our team about our free audits which could positively impact your bottom line, call us on 01527 388 388 or drop us an email here